Lessons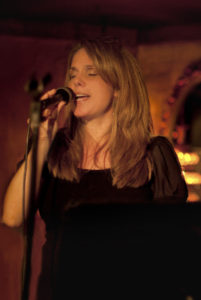 "Jenny teaches like she sings, straight from the heart, and she backs it up with solid technical chops."
A Seattle native, Jenny Davis holds an MFA from Vermont College of Fine arts, and earned her Bachelor of Music from the prestigious Cornish College of the Arts,  where she was awarded the coveted Maggie Hawthorn scholarship, the music department's highest achievement. An experienced steward of straight-ahead jazz, she actively performs throughout Europe, Canada and the U.S.A. in clubs, festivals and jazz venues, including Seattle's Jazz Alley and the Victoria BC International jazz festival. She has recorded 3 successful albums and is currently a music booking agent for other international jazz artists. Educated in classical vocal technique, as well as jazz musicianship, for 25+ years Jenny has been coaching beginning to professional level vocalists of all genres, focusing on the individual student's goals and needs.
A popular instructor among teens and adults, students of all ages work with Jenny to expand their vocal range, study proper methods of breath and vocal technique, and hone their skills in phrasing and microphone use as well. Some students come to the studio with no vocal training. Much like leaning to play the saxophone or trumpet, Jenny teaches students how to "play" their own voice through proper vocal placement and technique. Lessons are focused on vocal technique, and most important, singing songs that inspire joy, passion and fun!
Jenny works with semi-pro and professional level students with current projects, as they work in their own bands, recording projects or career development. Working closely with other musicians is Jenny's special gift. Her style is upbeat and positive and you discover how exciting and dynamic singing can be when you learn to integrate your voice with other instruments. Her respect for all players is exceptional. She knows how to be part of the band, showing students how to communicate with musicians on the bandstand, how to improvise by listening carefully to their playing, how to get the most out of rehearsals.
Jenny has performed and studied with some of the greatest artists in music today: Grammy winning artist Kurt Elling, Maestro David Kyle, Jovino Neto Santos, Chuck Easton, Dave Carson, Julian Priester, John Clayton, Diego Figueiredo, Bud Shank, Jackie Ryan, Anita Wardell, Jackie Ryan and many more. A passionate steward, and lifetime student of jazz, her mission is to pass on the tradition to future generations.
"Each voice is a unique instrument, some are more developed than others. I try to work with students to reach their personal potential through the art of technique and ultimately finding their own authentic and artistic expression."
Clinics & Singer Showcases
Workshops are offered at Island Music Guild on Bainbridge Island, WA,  encouraging dynamic interaction between vocalists and instrumentalists. These musical collaborations culminate with a Singer Showcase live performance.
"Jenny's Singer Showcase gave me the chance to perform with some great jazz players in a club setting. She taught me to listen, really listen to the other instruments"
– Student
I learned to take a piece of music and create something new and different, to stylize a song, count and change tempos and how to transpose songs so they're in the right key for my voice."
– Student
RATES:
60 minute lesson: $90
30 minute $50
Discounts for multi-lesson packages available
CONTACT:
email hidden; JavaScript is required
360 301 5637
Now offering lessons at Island Music Guild, Bainbridge Island WA
ISLAND MUSIC
360-301-5637
email hidden; JavaScript is required